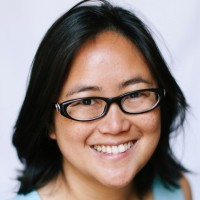 Rosebud Designs is, as I like to tell people, a one-woman wrecking crew. You call or send an email, and you get me (Jenn). I've also been fortunate to have a lot of friends and amazing collaborators, so sometimes, there's more than just me. But whether you're dealing with just me, or a team I helm, the goal always remains the same: high-quality work, high-quality service, all served up with a smile and a dose of fun.
I've run Rosebud Designs since 2009 and worked with a wide variety of clients. They range from the well-known and large businesses (Miramax, Rancho La Puerta), to various non-profits, to fellow creatives and vibrant small businesses.
In addition to working as a designer and nerd, I enjoy teaching and training people. I currently teach front-end web development (in other words, HTML, CSS, and JavaScript/jQuery) at General Assembly in Santa Monica. I'm also an adjunct professor at USC, my alma mater, teaching an Intro to Online Journalism class. I've also been a guest speaker for various organizations in the L.A. area, schools in the Sacramento area (including Sacramento City College and the Art Institute of Sacramento) and taught WordPress workshops.
I'm a proud member of AIGA Los Angeles, and serve on the Programming Committee as an event producer. The main event I help run is our Blueprint series, which aims to educate designers about the business aspects of design. I also believe strongly in giving back to the community, and have done work with Taproot Foundation here in Los Angeles.
In a previous life, I spent 10 years in the newspaper business as a sportswriter, copy editor, page designer and online producer.
In my spare time, you can find me living and dying with the fates of my favorite sports teams: USC Trojans, Los Angeles Kings, Pittsburgh Steelers, and Philadelphia Phillies. I play sports, too: I'm a curler with the Hollywood Curling Club and a fairly terrible hockey player. You'll also see me wandering around with a camera and occasionally playing instruments and writing music as part of the husband-wife duo Of the Fountain. I currently live in Los Angeles, and as Randy Newman put it: I love L.A.
I love Twitter, and you can find design and business musings at @dabblingdesign.